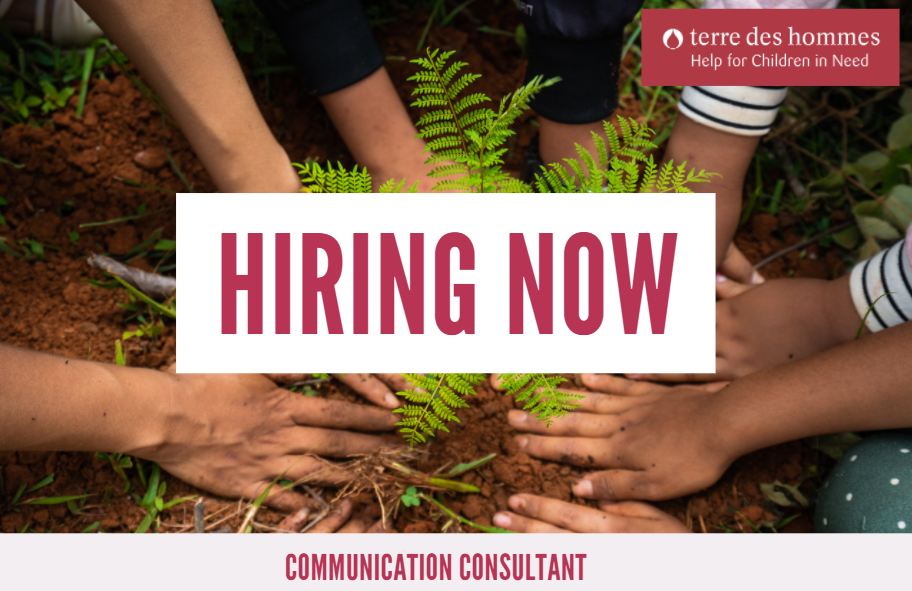 terre des hommes Germany (tdh Germany) announces a call for applications for the full-time position of Communication Consultant.
For over ten years now, tdh Germany and its partners have been promoting the right to a healthy and sustainable environment through the international campaign MY PLANET MY RIGHTS. An important milestone on the pathway to the recognition and realization of children's environmental rights is the creation of the General Comment on Children's Rights and the Environment with a Special Focus on Climate Change (General Comment No. 26 or GC26) to the UN Convention on the Rights of the Child. The UN Committee on the Rights of the Child launched the process of elaborating the GC26 in September 2021 and selected terre des hommes as an official partner.
The Communication Consultant will support the global communication, engagement and mobilization work surrounding the creation of the General Comment no. 26. Read this for the full Job Description of the Communication Consultant. 
tdh Germany is an international chil­dren's aid agency that promotes child rights in development policy and aligns its work to the principles of the United Nations Convention on the Rights of the Child. tdh Germany believes that any form of violence against children is unacceptable and we have zero tolerance when it is committed by persons who are, or claim to be, responsible for their protection. All candidates will be subject to strict background checks, as required by the organization's Child Safeguarding Policy.
---
Apply Now!
Please send your application letter, curriculum vitae, school transcript of record and police clearance (or its equivalent) to Mélina Zingg (m.zingg@tdh.de) on or before 31 March 2022.