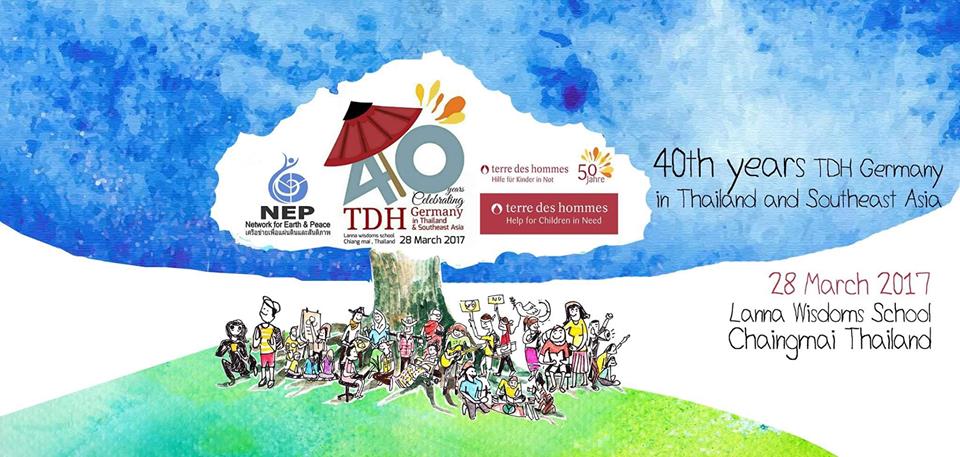 In accordance with the terre des hommes Germany philosophy, and consultations with project partners, the theme of the 40th anniversary of terre des hommes Germany in Southeast Asia will defined as "terre des hommes Germany and a journey of changes: the role of children and communities to sustainable development". By focusing on this theme, we decided to reflect on the policies and procedures of terre des hommes Germany on how to mainstream children rights and sustainable development to improve well-being of children, communities, social condition of local communities. We will develop, support and carry out activities to promote the anniversary.

Host: tdh Thailand and Laos project partners network and terre des hommes Germany Southeast Asia office

Purpose of the 40th years tdh in Thailand and Southeast Asia:
1. Celebrate and say thank you.
2. Motivate people to continue and for young people to start new.
3. Material for 50th year celebration of tdh and 40th year anniversary
4. Present Impact to Lives in 40th years a journey of changes.

A 40th anniversary will provide the reason to have the celebration by public our organization's achievement by having a day honouring the peoples, organizations that have contributed to our achievement. Invite project partners, children, villagers, NGOs, INGOs and staffs to celebrate it together.

The Seminar, Exhibition and Appreciation event will make stakeholders feel values and motivated to work together with us. On the seminar, we will selected children and youth, project partners and/or even staff to present their "changes" in the growth of them when they work together with terre des hommes Germany and develop the strategies for a sustainable development, which will also present the model for the sustainable future, which will require involvement and commitment.

Date: 28 March 2017
Time: 10.00 – 21.00
Place: Lanna Wisdom Schools, Chiang Mai Thailand.

Credit Logo: Hamarin Gabfai
Credit Cover: Sanya Makarin